One of the most scenic ice rinks in Budapest during the Christmas season is perhaps the Skating Rink at the Whale Winter Festival, located near the modern whale-shaped building, called "Balna".
The Whale Winter Festival has opened its gates to let you skate along the river Danube while marvelling at the several beauties of Budapest's century old UNESCO World Heritage sites, typically enjoyed from Budapest River Cruises.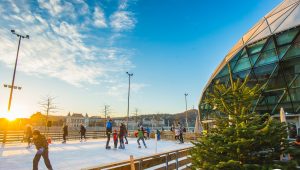 Whale Winter Festival
The unmistakable whale shaped building of the glass covered Whale Event Hall & Whale Bistro are welcoming You for the Budapest Whale Winter Festival event series for the festive season. There are ongoing, varied winter programs and activities both inside the building, and in the Panorama Hall, culminating in the spectacular and fun Boogie & Swing New Year's Eve Party on December 31.
There will be something for every age!
Ice Rink Highlights
Free entry to the ice skating rink
Amazing Danube view (UNESCO site)
Free concerts & music programs (Ice Disco)
Mulled Wine
Street Food
Affordable prices
Crafts Market
Interactive Play Centre for kids
Free 1 hour parking (weekdays + 2 hours weekends)
Winter Festival Program: Daily Schedule
Free Ice Skating with Panorama View
Interactive Crafts Play Centre for kids with Animators
Ice Disco from 6pm
Christmas Gift Making: the Crafts Play Centre of the Whale Winter Festival is aimed for families with kids who want to make Xmas gifts as crafts. There are various other children programmes.
Opening Hours
The Skating Rink Opening hours of the Winter Festival are as follows:
Sunday – Thursday 10 am – 10 pm (break for rink maintenance 2-3pm)
Friday – Saturday: 10am – 12 pm (midnight) (break for rink maintenance 2-3pm)
Mon – Sun: closed for ice rink maintenance
Festive Opening Hours:
24 Dec: 10 am – 2pm
25-26 Dec CLOSED
27-30 Dec 10 am – 10 pm
31 Dec 10 am – 6 pm
Dec 31 New Year's Eve Party in Budapest Whale
1 Jan CLOSED
Every afternoon between 14:00 and 15:00 the ice rink is closed due to ice maintenance.
Rental Prices for Skating Rink
HUF 1000 / 3 hours (approx. €3.5)
Deposit: HUF 10000 (approx. €35)
Miscellaneous info on skates for hiring:
Runner Ice Skates available from size 26
For smaller children double blade skates are also available (attachable to regular street shoes).
Address of Whale Winter Festival
Balna Budapest
Budapest
District IX (Post code: 1093 Budapest)
11-12 Fovam Square
Other Ice Rinks in Budapest: