Budapest Christmas Market Tour Booking
The Budapest Christmas markets tour is simply one of the best tours the city has on offer for visiting the markets and St Stephen's Basilica in a guided tour, plus having a 3 tier wine tasting in a nice Hungarian restaurant. The price is for all three is €40 (student and child tickets available).
See the details of the Christmas Fair Tour in Budapest below, and place your booking as places are limited, but tourists in Budapest are not so limited during the Christmas holidays.
Why Budapest Christmas Market Tour?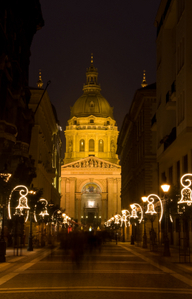 Is it really worth it? 40 Euro? Yes. Absolutely! We think it definitely is, especially for such a low price, it is a great value for money, a great gift idea if you are in Budapest for the Christmas holiday, and a great opportunity to get first hand experience as well as relevant and interesting information about Hungarian Christmas traditions (and fantastic wines). The Xmas tour includes:
Guided Tour to 2 Christmas markets of Budapest (on Vorosmarty Square and at the St Stephen's Basilica)
Wine Tasting of 3 Hungarian Wines in a Hungarian Restaurant (approx. 30 min)
Guided Tour inside the St Stephen's Basilica
1 Mug of Mulled Wine
Half price for children
Discounts for Students
Let's see each in more details:
Guided tour of 2 Christmas markets with a local guide: guiding you around some of the beautiful Xmas markets in Budapest: e.g. Vorosmarty Square Christmas Market, St Stephen's Basilica Christmas Market.
Interesting guided tour, focusing on Hungarian Christmas traditions (just like the Advent markets, which are like nostalgia postcards coming to life). You can enjoy the markets and see the sights, foods, gifts through a local's eyes, get footnotes and informative guidance about what you see, what you are about to buy or eat. In the 2 Christmas markets you can see the Hungarian handicrafts, trinkets, souvenirs, as well as the local foods and sweets on offer.
Along the way you will see the Opera House, Andrassy Avenue, and St Stephen's Basilica. The Xmas tour ends on Vorosmarty square where the best Budapest Christmas market is (lots of traditional fares), so you can do some holiday shopping on your own – the farewell gift is a Mug of Mulled Wine to keep you warm while you are browsing on the Christmas Market with its hundred and more vendors, great concerts (free concerts on the Christmas Market stage!). Vorosmarty square is where the major shopping streets, Vaci utca, and the Fashion street leave from, where many shops can be found for a more modern sort of shopping (Zara, Mexx, Lacoste, H&M, Benetton, Tommy Hilfiger, etc.). The Christmas Market sprawls into these streets, which are all beautifully illuminated throughout the Advent period.
Wine tasting (3 tier): there are several wine tasting tours in Budapest, and the Christmas market tour does an excellent job considering its main focus is combining the Xmas fair sightseeing with a wine tasting tour rather than offering a stand alone wine tour.
The price of the Christmas market tour includes 3 glasses of wine (and at the end of the tour, 1 mug of mulled wine). Gluhwein is the most popular drinks of the winter markets of course. Min age for wine tasting: 18 years old (the legal age in Hungary), but participation in the tour is for all. Halfway through the Budapest Christmas Market tour you'll take shelter from the cold, and relax a bit while sipping away famous wines from Hungary. 3 top tier wines are included.
Public transport ticket: the tour is a walking tour and does not include public transport tickets (there is no need for taking the public transport)
The whole tour is family friendly (free for under 2, 50% discount for children under 13, and student tickets are also available). It is a perfect family program with bigger children, but do make the kids wear warm clothes, coats, hats and boots for the tour to avoid getting the cold.
Included in the price: the guided tour in the 2 major Christmas markets, inside St Stephen's Basilica, and 3+1 wines, small group professional guide.
Not included: Foods, gifts are NOT included in the price of the Xmas fair tours (nor is a tip for the guide).
When are the Budapest Christmas Market Tours?
The Budapest Christmas markets tours start each day at 2.30pm and finish at 5pm from the beginning of December till the end of December.
Available dates (can be checked on the booking page): some of the dates have already been booked up, and on certain days the tour is not available. See the calendar of the Christmas tours in the booking form (the little calendar icon shows the available dates).
14.30 – 17.00, from Nov 24 to Dec 30 (NOTE: no tours on Dec 24, 25 and 26)
TIP: Please note that the wooden stalls selling hand crafted Christmas gifts are only open until 2pm on Dec 24. This is usually the last day for selling Xmas goods and gifts on Vorosmarty Square, then mostly only the gastro stalls remain open selling Hungarian drinks and street foods.
Booking the Christmas Tour
Please use our booking form to make a reservation for your Budapest Christmas Market Tour.
After booking you will get an electronic voucher, and this is what you will show your Christmas tour guide to prove the payment. You can also print the e-voucher on a paper but this is not necessary. You have two options for the tour regarding proof of payment, you can use paper or digital vouchers to present.
e-Voucher
The supplier of this tour accepts both printed and electronic vouchers (e-vouchers). You can either print the voucher and present a paper copy on the day of travel. Or, if you travel with a mobile device, simply show your voucher on your Smartphone or tablet on the day of travel.
What to wear at the Budapest Christmas Market Tours?
Do get dressed warmly as spending 1-2 hours outside at the Christmas markets can be chilly. The winters are cold in Budapest, you will need boots, or warm and waterproof shoes (ideally some kind of goretex waterproof walking boots, or comfy water repellent shoes), hat, scarf and gloves will come in handy on windier days, and a good warm coat is also necessary.